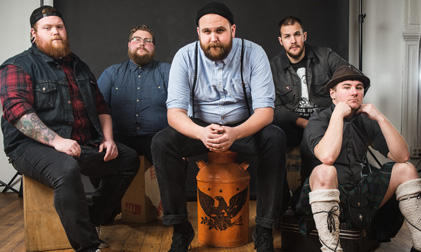 Flatfoot 56
Playing a positive-natured brand of hardcore-tinged Celtic punk, Flatfoot 56 has been unleashing itself upon America and the rest of the world for over 16 years. Forming in 2000, the Chicago natives achieved nationwide attention with their first two label-backed records, 2006's Knuckles Up and 2007's Jungle of the Midwest Sea. These releases built on a heavy dose of previously established regional notoriety, helping the band gain steam early on.
Frontman Tobin Bawinkel (vocals/guitar) is now set to lead Flatfoot 56 on in their furious march forward. Armed with his brother Kyle (bass), along with Eric McMahon (bagpipes/guitar), Brandon Good (mandolin/guitar/vocals) and Conrad Allsworth (Drums), Flatfoot 56 is getting ready to release their most ambitious album to date.
Odd Boat was produced by Matt Allison at Atlas studios in Chicago and features 12 songs that blend the band's unique blend of traditional Irish folk music and surging punk rock.
For fans of: Dropkick Murphys, Cock Sparrer, Flogging Molly