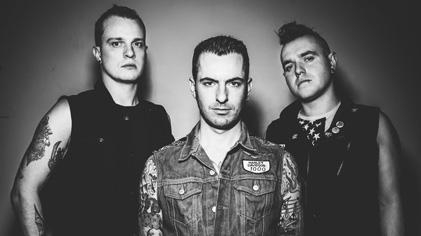 Koffin Kats
After more than a thousand shows and a decade of international touring, "the road" is where Detroit-based Koffin Kats now call "home." The Koffin Kats take the Motor City attitude and mix it into a toxic blend of booze, tattoos and thumbing psychobilly punk rock 'n' roll. The trio kicked things off in June 2003 with a mission to not stop for anything. Vic Victor (Lead Vocal, Upright Bass) joined forces with long-time friend Tommy Koffin (Guitar) and started laying the groundwork for the sonic assault known as The Koffin Kats.
They put together songs with subjects ranging from Sci-Fi to dealing with the horrors of the real world. With Eric "E Ball" Walls on drums, they began by playing for beer in small local bars, eventually made their way out of the Midwest. The next couple of years proved to be up with numerous North American tours and down with numerous drummer changes. During this time they released their first three albums — S/T (2003), "Inhumane" (2005), and "Straying from the Pack" (2006).
These releases and the tours helped get the name of "The Koffin Kats" noticed in the wide world of punk and psychobilly. In 2007, Vic and Tommy hooked back up with Eric for their fourth album, "Drunk in the Daylight" (2008), and began making the Kats what are now known for today...NONSTOP TOURING AND MAKING EVERY SHOW A PARTY. With their love for their fans and for the road they set out to play everywhere someone was willing to listen.
In recent years, they have been able to make a name for themselves in Europe as well and have been included on tours with some of the tops acts in psychobilly, such as Mad Sin, Nekromantix and The Meteors. In 2009 they released "Forever For Hire" and at year's end Tommy left the band to pursue a normal life. Shortly thereafter, EZ Ian Jarrell took over the guitar and hopped on tour. While on the road, the trio worked on material for a split album with The 12 Step Rebels, which was released in the spring of 2011.
The Koffin Kats signed with Sailor's Grave Records for the 2012 release of Our Way & The Highway, a culmination of all things KK with their rich history, road scars, and outlaw psycho punk blood running furiously through every ear-ripping track.
With their seventh studio album, Born Of The Motor, out in 2013, The Koffin Kats continue their classic storytelling style, but with their most real, most personal lyrics to date. Both a sonic homage to their resident city and its blue-collar legacy, and a metaphor for being hard-wired towards hard work and persistent ambition, The Koffin Kats charge forward waving a proud flag soiled with blood, sweat and whiskey-defying the decay and chaos that has stained their city in recent years.
For fans of: MAD SIN, MISFITS, SOCIAL DISTORTION, THE CREEPSHOW